Arlington Special Election Next Week: Experience, Endorsements, & Economic Development Chops
Street Justice Newsletter: Vol 2, Edition 60 (5/3/2020)
— — — This the free, weekly edition of Street Justice. — — —
---
Candidate Forum on Facebook Sets Up 24-Hour, Vote by Email Caucus for Arlington Democrats Seeking County Board Seat
This afternoon, the Arlington County Young Democrats hosted a virtual candidate forum featuring the five declared candidates for the Party's nomination to compete in a July 7th Special Election to fill the County Board seat of recently passed Erik Gutshall. Before the event was over, candidate Jimmy Rogers — a precinct captain — dropped out of the race after leaving the Facebook Livestream in what seemed first to be a technical glitch. Regardless, Rogers had only declared yesterday — the party's deadline for nomination consideration.
As Street Justice detailed last week, less than 300 Arlington Democratic Party activists will vote by email this week, picking among the remaining four candidates. This insular process, forced by Circuit Court decision giving only a few weeks for parties to pick nominees, favors current School Boardmember Barbara Kanninen. This week, the four current members of Arlington's Board petitioned the VA Supreme Court to move the Special Election from July 7th to at least August 4th but later if possible — "preferably the date of the general election on November 3, 2020."
Today's Facebook event was the second successful virtual candidate forum hosted by the Arlington County Young Democrats. Earlier this week, the group held a candidate forum featuring five candidates for two spots opening up on the Arlington County School Board. The Arlington Democrats are also holding a vote-by-email caucus to choose two endorsements among those five candidates with a ballot deadline of May 30.
As for the County Board Special Election, those Democratic Party insiders will pick a candidate this week who may very well face a third-party challenger in an extremely uncertain Special Election race July 7th. Lowell Feld, a decades-long Democratic blogger in the Commonwealth, has a thorough live-blog of today's candidate forum. Whether or not the Special Election is delayed, those ArlDems insiders will likely pick a nominee this week — with email polls open May 5-6 and Ranked-Choice Voting with instant runoffs between the four candidates.
Chanda Choun is widely-supported by Arlington urbanists Street Justice spoke with regarding housing and transportation issues. He dropped out of a separate primary election where he was challenging incumbent Boardmember Libby Garvey.
Barbara Kanninen is an incumbent Arlington School Boardmember who, despite her campaign messaging about equity, is considered by many to have voted to preserve inequities during recent School Board votes. She is the heavy favorite in this race — pulling strong support from ArlDems North Arlington establishment from single-family home neighborhoods. During today's candidate forum, Kanninen announced that she received the endorsement of former Governor Terry McAuliffe. McAuliffe is a centrist-Democratic Party kingmaker as much as he was a pro-business politician. Kanninen is also endorsed by VA AG Mark Herring, The Arlington Sheriff, and a murderer's row of Democratic Party leaders in the 26-square-mile County.
Nicole Merlene is the 20-something Arlingtonian who captured about 40% in a 2019 primary challenge of Virginia State Senator Barabara Favola (D - VA 31). Merlene has focused her Special Election campaign on the need to add a renter to Arlington's Board when County residents are majority renter and majority inhabitants of multi-family buildings. During calls with the 275ish eligible caucus voters, Merlene has emphasized her economic development financing experience, work on the ArlCo Econ Development Commission, and contrasting strengths with a potential third party candidate for the Special Election. While Barbara Kanninen has focused on selling her strengths as experience and preparedness, Merlene has highlighted her ability to draw from the younger and more diverse voters in Arlington. If former Board member and Republican-turned-independent John Vihstadt runs in the Special Election, local political activists believe he will pull more voters from Kanninen's base.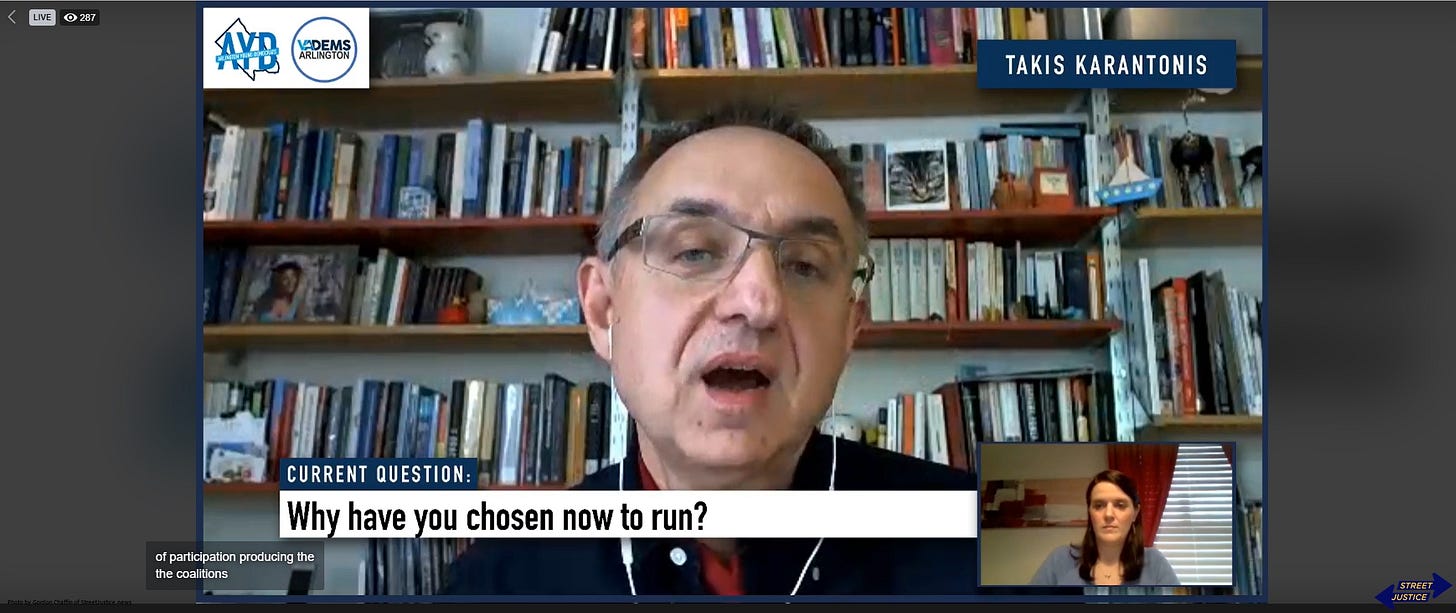 Takis Karantonis is the former Executive Director of the Columbia Pike Revitalization Organization and an urbanist. He's a member of Arlington's Transit Advisory Committee and has been a Street Justice subscriber. While both Kanninen and Karantonis are economists by training, Takis has more experience as a community organizer working with neighbors at the intersection of public policy and everyday lives of Arlingtonians in the less-politically-powerful, more diverse southern end of the County.
---
Request for Resident-Only Parking Surges
This week, ANC 4B (Takoma/Brightwood Park) became at least the third DC Advisory Neighborhood Commission this month to request Resident-Only Parking on several blocks of their territory. This designation permits only residents of that Ward to park when parking restrictions are enforced weekday daylight hours and Saturdays. ANC requests for ROP parking have passed unanimously at ANC 2B (Dupont Circle) and ANC 5D (Ivy City/Union Market/Trinidad) in reaction to strong community concern about more limited on-street parking options. Conversion to ROP requires DDOT study of the blocks and observation of 50% out-of-zone parking.
DC urbanists should begin to think about parking reform as a question for the next Council term. The current Resident Permit Parking system is outdated, vastly under-prices the opportunity costs of street space, and there's a growing wave of ROP conversation requests. With greater Delivery/PUDO needs at the curbside, there's a growing need for wholesale curbside management reform at the Council and Mayoral level. There's a lot of rhetoric in ANC and Civic Association meetings about residential and retail developments increasing on-street parking demand. But there's not a lot of comprehensive, rigorous data. Perhaps DC could reduce RPP street space by 20% and use that for bike/bus lanes while clamping down the remaining parking space for Resident-Only Parking, Automated Enforcement, and PUDO zones all over the city?
---
DC Officials Struggle with School Questions
Also during the ANC 4B meeting, Commissioners and residents pressed school leaders with tough questions about 4th Quarter 2019-20 and the beginning of next SY 2020-21. A resident asked critical items regarding the fall semester:
Will DC Public Schools — and Public Charters — commit to testing all school staff and students for coronavirus? Will they require it before staff and students are welcomed back for in-classroom learning (akin to vaccination requirements)?

Will DC commit to the offering of continued online learning for students who come from homes with immunocompromised individuals? A Street Justice dog walking client — and PCS teacher — explained that offering opt-out will double their work. Would they have to livestream their whiteboards?
None of the speakers in the meeting had clear answers about logistics. On education, transportation, and most other issues of public concern — I don't think anyone has great answers. I do know that parents of school-age children are asking razor-sharp questions. The SJ client mentioned above said they were wondering how they'd even set up their classroom for social distancing. What if her school's classrooms only fit 10-12 desks when spread apart and their average class size is 25?
[Details]
---
Low-Cost Virtual Meeting Services for Community Orgs
I've set-up a full-feature Zoom account and am now offering an affordable, easy-to-understand approach for recording, broadcasting, and holding virtual meetings to ANCs, Civic Associations, PTAs, book clubs, citizen advisories, etc in the DC area & across America. I'm an experienced A/V producer of events like this 2017 public talk. I will handle logistics and troubleshoot while you focus on the substance of the meeting.
This is intended to relieve the logistical burden and uncertainty of borrowing someone's work access to video conferencing or A/V equipment. Instead of meeting leaders troubleshooting unfamiliar enterprise solutions (e.g., Webex), I'm offering services for less hassle and greater security.
This best practice service allows a small-budget organization to increase transparency and engagement with the public. Holding public meetings and advertising them is often limited in reach to only the stakeholders predisposed and able to attend meetings on weekday evenings. Many stakeholders, especially older residents, can't easily attend and would benefit from a call-in option. While many ANCs and similar use some form of recording devices, they either use inadequate, cheap equipment or over-pay for a professional service.
I care deeply that volunteer and underfunded neighborhood-level organizations keep operating during novel coronavirus (COVID-19). I'm offering this service so neighbors can continue helping neighbors. Also, I want to help expand who can participate and coordinate this connective tissue of thriving communities.
---
Other Services Offered By Street Justice
> Virtual Meetings, Livestreams, A/V Recording - Best Practices and Options
> Presenting Sponsorship: Each Street Justice edition includes a Header and Footer graphic with two sponsor logo slots -- four total slots per edition. A presenting sponsorship purchases all four slots in each SJ report for the duration of the contract. Street Justice publishes Mon-Wed-Fri-Sun, so each week nets 16 total logo placements. This includes a referral link to the sponsor's website, activated when readers click the banners.
> Weekly Story Sponsorship: Every Sunday, I publish a free-to-read story in my weekly digest. This sponsorship would make that free story branded. This would include a header graphic and text. E.g., "Street Justice's Weekly Free Story, Powered by [Mobility Company]."
> Event Calendar Sponsorship: Every Street Justice edition includes a calendar of upcoming public events that involve or interest transportation/infrastructure. The calendar includes ANC meetings, City/County Council Meetings, Advisory Commission meetings, etc. This sponsorship would create a branded heading and text thank you. E.g., "Street Justice Events Calendar, Powered by [Mobility Company]"
> Website Services for Community Orgs - Sample Proposal