Street Justice Newsletter: Vol 1, Edition 8 (1/16/2019)
Welcome to the Street Justice Newsletter
This is a daily newsletter produced by Gordon Chaffin, a journalist in Washington, DC. I cover transportation and urban planning in DC, MD, and VA to explain what is happening in the street and why. You can subscribe for free or pay a small fee to help me make this my full time job.
---
If You Crowdfund a Snow Blower, I Will Clear the Bike Lanes
DC-area authorities are doing a poor to terrible job clearing bike lanes and sidewalks. DDOT did an okay job clearing the on-street cycletracks and some of the trails, but the curbside bike lanes without protection/barriers have snow pushed into them or parked cars prevented clearing. Residents and businesses are supposed to clear and salt sidewalks in front of their properties, but even when that happens, what of the sidewalks fronting land that is vacant or has distant ownership? What of the sidewalks on bridges?
As it is, DC's many shared trails are only cleared because of volunteers. The National Park Service is responsible for the Mount Vernon Trail, and they're shut down. So, the "Friends of…" non-profit had volunteers clearing it. The Capital Crescent Trail parallel to the C&O Canal Trail and further North into MoCo is NPS jurisdiction too.
If y'all crowdfund a snow blower, I will clear bike lanes and neglected sidewalks in the DC area. I'm not kidding. It has to be a cordless, electric snow blower like this one. I don't use internal combustion engines. I will clear the places that you're complaining to the government about. I'll do it for free. I'll ride the Metro with my snow blower to your neighborhood and clear your sidewalks and bike lanes.
I could also use some salt/kitty litter to melt the ice. Please buy me some animal-safe stuff like "Safe Paws" or "Green Gobbler." Again, I'm not kidding. You can help me buy these things on my Amazon Wish List. I don't own a shovel. I broke my broom clearing my neighbor's stairs on Sunday.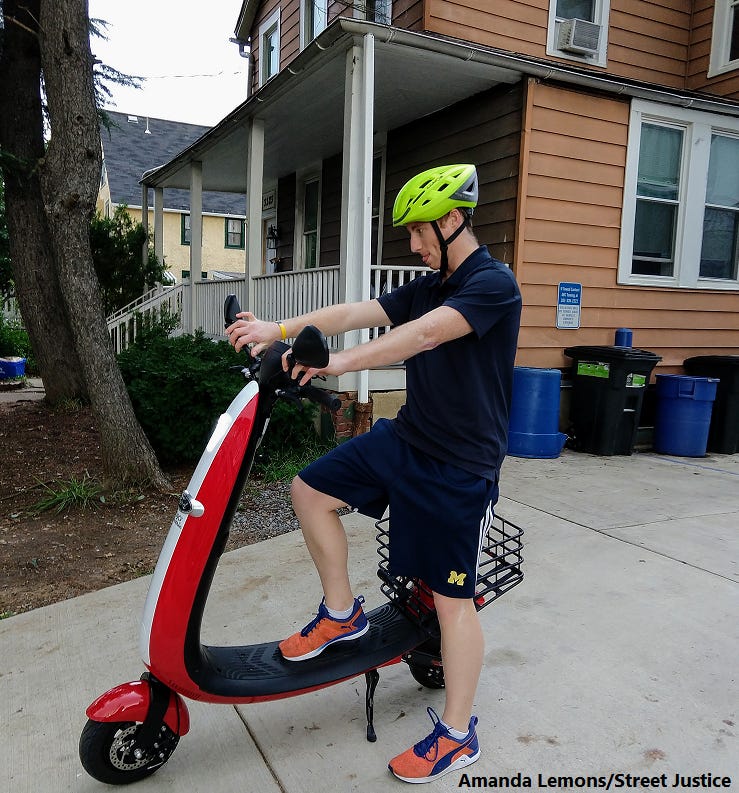 Lime's New Scooter Impresses at TransportationCamp 2019
Lime, an electric scooter, electric bike, and regular bike sharing company now worth $2 billion, brought their new scooter model to TransportationCamp 2019. As some of you know, my primary transportation tool is the electric Ojo scooter pictured above. I've used it 5-8 times per week for 5 months now, in 25 degree and 85 degree weather. I've also spoken with Ojo's engineering staff about their scooter — sharing insights from the last 2 years of bike- and scooter-share in DC — and I've done reporting on Bird's scooters. So, I have lots of scooter design thoughts.
At TranspoCamp, Lime's Maggie Gendron (in the black coat below) was nice enough to speak with me at length about her company's new scooter. I think it's a game-changer.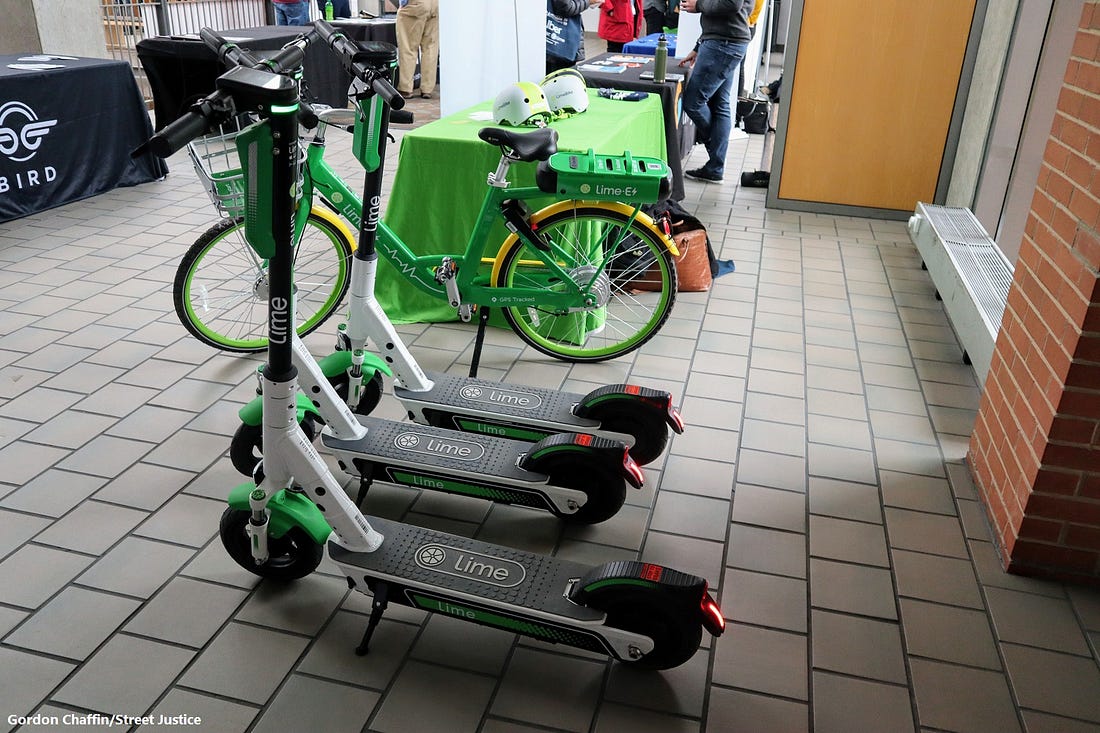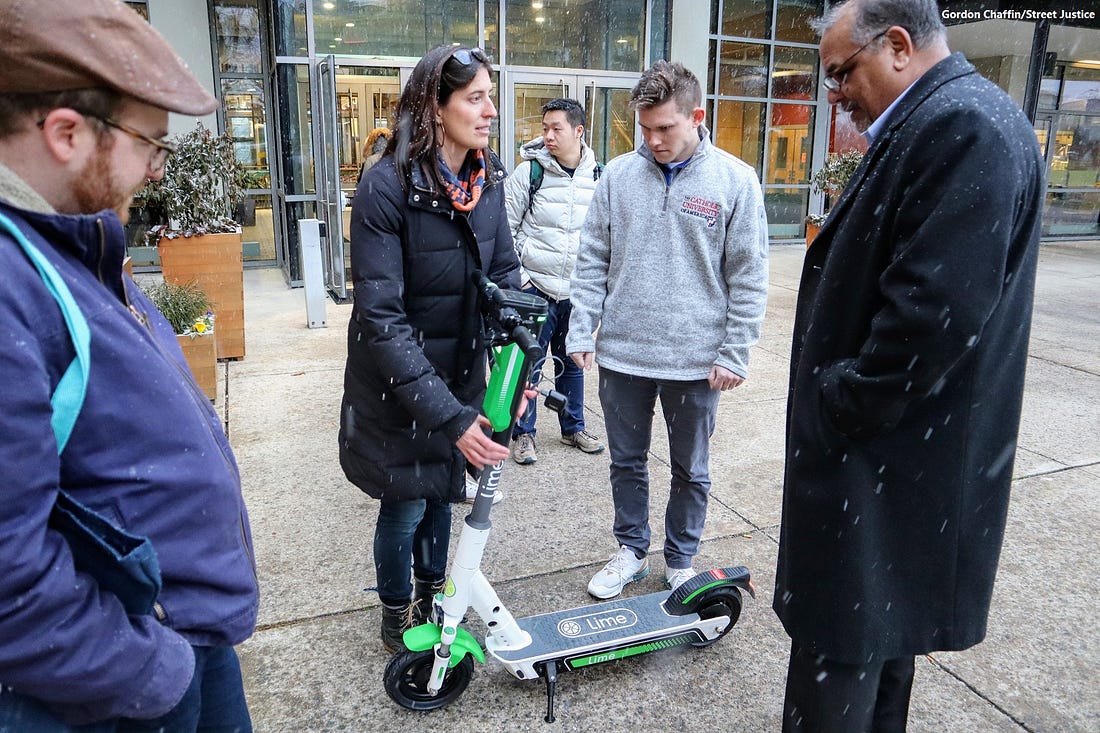 Lime's 3rd model is the first fleet scooter I've seen that I would ride more than a block. It's not a 2000-era Razer scooter with roller blade wheels and an electric motor. I didn't bring my Yo-Yo (I should've!) to measure it, but the wheels are wider and have proper tires on them. The fork has shocks along with a plastic cable management channel pushing hydraulic fluid to the disc brakes.
The rear wheel includes a 750W electric motor capable of 20 mph. Given DC and other cities' various speed limits, Lime is using software to limit speed. So, the DC fleet models will all have the same limit, no matter where you take them. The alternative solution would be to let the scooter determine top speed with each model's GPS. That's called "geo-fencing" and it can be applied to also make scooters inoperable in specific locations like National Parks. Boo, NPS! BOO!
DC's speed limit is 10 mph, which makes these scooters basically useless as functional transportation tools. That is too slow for riders to travel safely on the street and still too fast for pedestrians to really feel safe about sharing sidewalks with them. People walk about 3-4 mph, but the scooters would be unbalanceable (that's a word now) lower than 7-8 mph.
A note on the choice of hydraulic disc brakes: that's key. My red scooter cruises at 20 mph and it has wheels of approximately the same diameter. But, my scooter weighs 65 pounds. These Lime 3.0's probably weigh half that. A critical point of failure my scooter has is that it uses cable-based disc brakes and cheap plastic calipers (the mounting where cable force changes to braking force at the wheel).
I've had to replace the rear brake caliper on my Ojo twice via parts order and bike shop repair. It's not an expensive fix — $50ish — but I'd rather pay $200-$300 to have brakes which properly withstand the force of 65 pounds plus running-is-hard-in-the-winter-so-I'm-a-bit-heavy Gordon. (Plus, Gordon's tripods and stuff.) In retrospect, and in my next mobility vehicle purchase, I will demand hydraulic disc brakes with housings at the wheel where the caliper isn't exposed and vulnerable to rattling from the road and kinetic force of braking when it's zero Celcius or lower. Good on Lime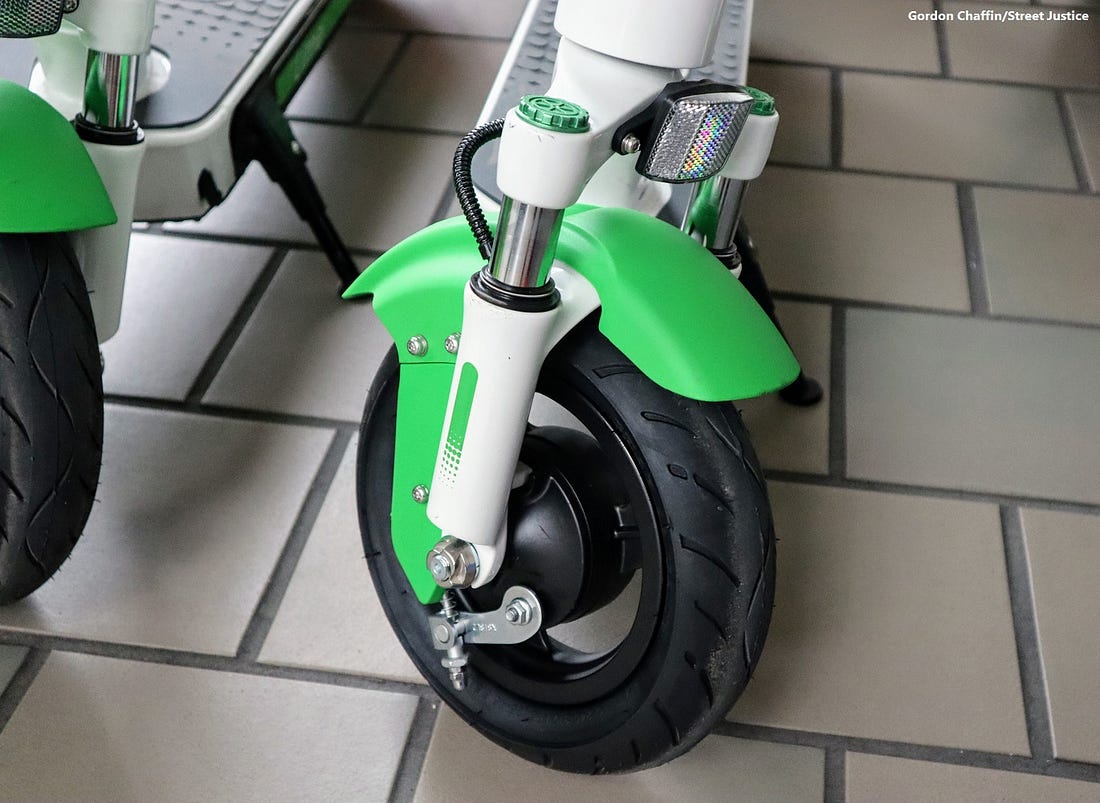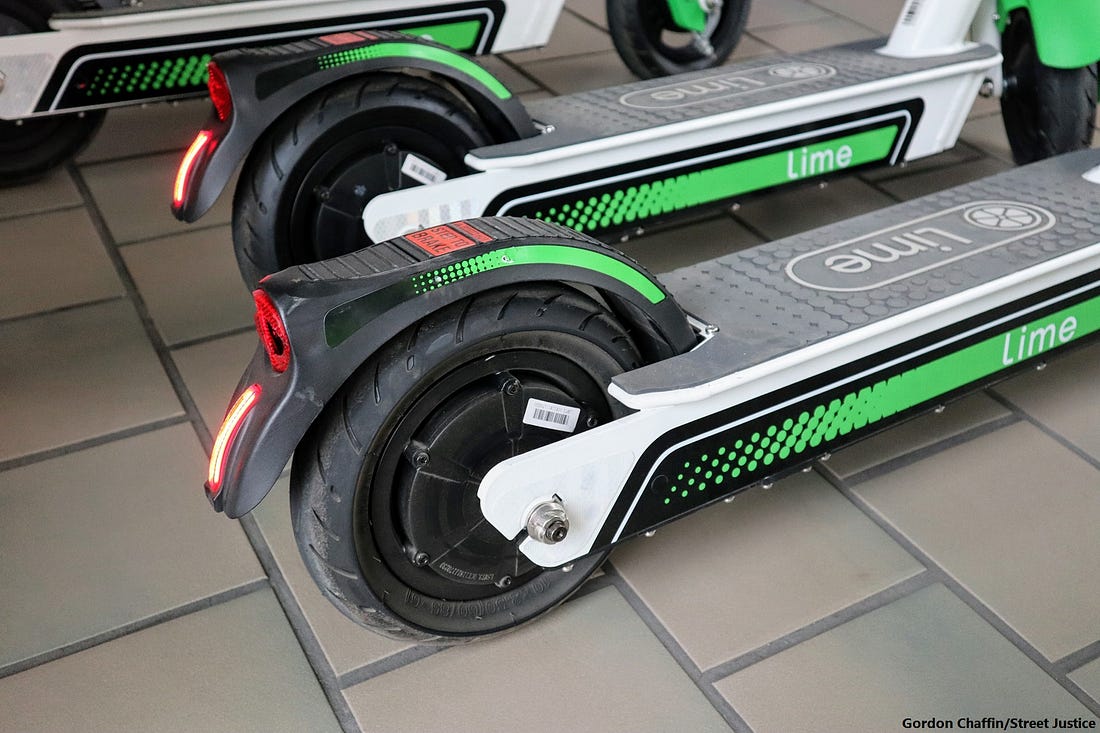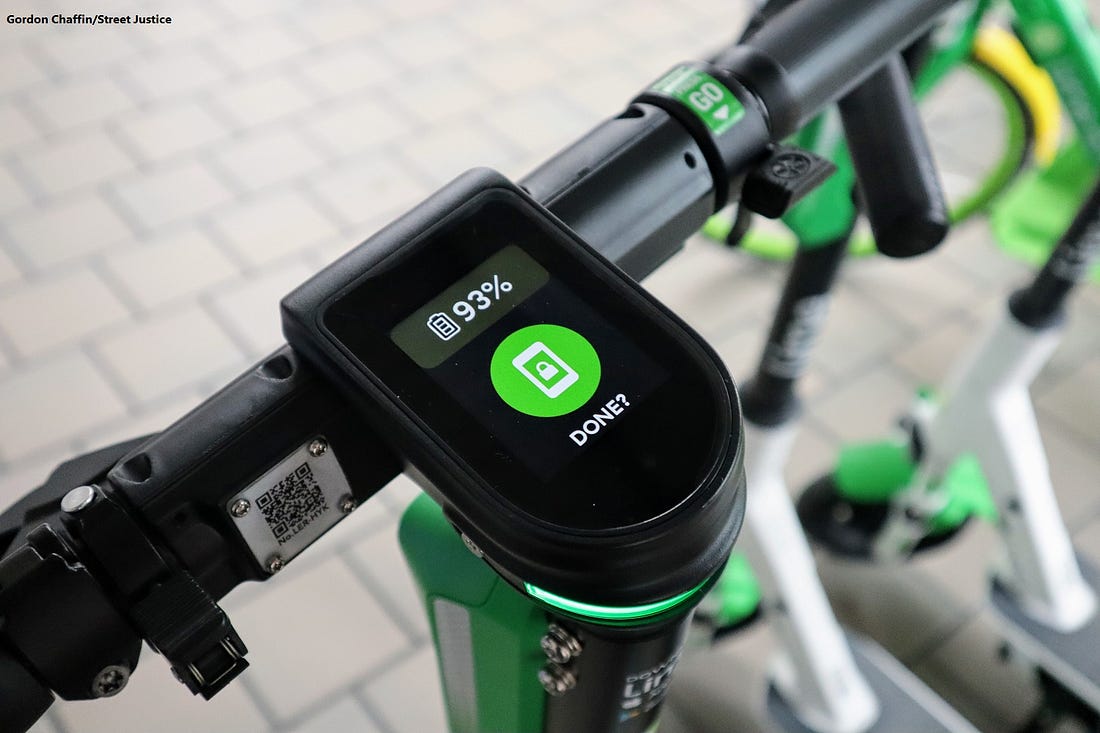 Lime put the internal battery pack into the floor, which lowers the center of gravity, making the scooter easier to ride on mixed terrain and steering kind of like a bike or surf board. My Ojo's internal battery is also in the floorboard, and the act of steering is mostly a lean and applying light torque to the handlebar. It's a 30 second adjustment for even novice bike riders and then you're gyrating your ass around like Mary J Blige to make all your turns.
Maggie mentioned that Lime discussed using a removable, swappable battery to keep their fleet charged up in the field, but decided the tech/engineering wasn't ready yet. Lime has the pedal-assist electric bikes (Lime-e, or Limey!), so it seems reasonable they'll minimize and flatten the batteries to accomodate the geometry of a scooter. Also, as Maggie and I discussed, making the battery housing easier to access for swapping also makes it easier to steal or vandalize.
I will say that swappable batteries are necessary for medium- to high-density neighborhoods where most people don't have a garage. At my apartment building, I have to use a 100 ft, contractor-grade, heavy duty, weather impenetrable extension cord to charge my Ojo. In all future mobility vehicles, I will require a removable battery to charge indoors at a normal 120V outlet. They look like briefcases in most cases and have shoulder straps to carry into the office!
I didn't ask about timeline to fleet introduction (again, I should've!), but I hope soon in DC areas. Maggie said the new model costs basically the same as the old, crappy one. So, Lime seems to be betting the new ones last longer—and therefore pay off the fixed cost of manufacture before the units poop out. Bird seems to both think they can make their scooters cheaper and last longer. That depreciation/marginal value intersection point is the key to sustainability as companies. I think Lime's gambit is more likely to work. Bird's new Zero is less capable than Lime's 3.0 spec.
Oh, and if you're wondering, Lime's 3.0 has a tab throttle on the right handle and a lever bake on the left handle. There's a bell. It makes a nice sound.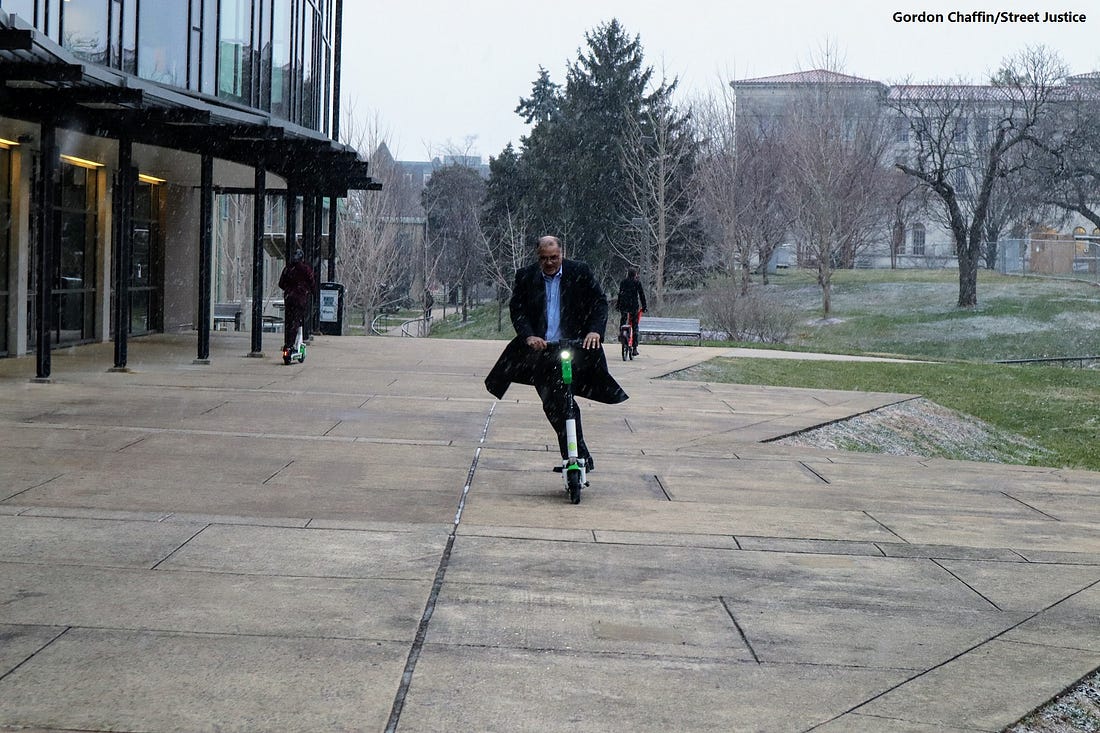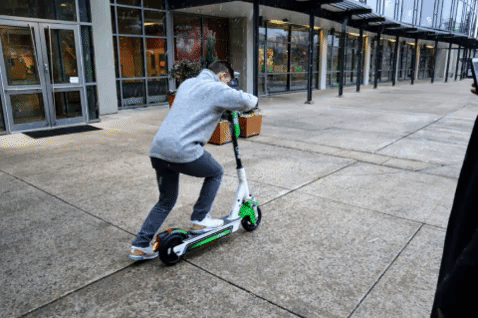 Another observation I have from DC's recent snowstorm: local TV news is so focused on cars and suburbs.
The DC broadcast affiliates, and I would guess the same for the NYC stations, cover snow as a driving impediment. They cover car traffic assuming that everyone gets to work in their car. But, 40% of DC residents don't own a car. And the DC stations only mention WMATA Metrorail delays in passing. Despite DC being filled with people who commute via transit, DC TV news stations allocate time and write their TelePrompter text with dominance on car travel.
I know lots of people live in the suburbs, and they're more likely to use cars for all their transportation trips. But, local TV news produces their broadcasts like it's 1976 and all of DC's residents commute into the District with a car, leave the city at 5 PM, and all the recreational action happens in some Del Ray park. The WJLA-TV anchors said yesterday "on my drive in" to preface a snow clearing from roads sentence. WJLA's studio is in downtown Rossyln; it's one of the most transit-rich spots in all of NoVA. For the love of all that is Holy, stop assuming commuters are drivers by definition.
DC TV News Production Choices Perpetuate "It's Unsafe" Perception of NE DC, East of the River, and PG County
Local TV news do a lot of live-shots in Northwest and Upper Northwest when the stories are about traffic delays and weather. But most of their live-shots about crime and public safety are in Wards 5, 7, and 8, plus PG County. Lots of crime happens there, sure. But, where you choose to spend precious little airtime creates impressions in viewers' minds. You could to a live-shot of traffic along Benning Road NE, East Capitol SE, Pennsylvania Ave SE, etc. People commute there, too. The point is: what you choose to emphasize shows your bias and makes viewers think that mode/place is the only thing that matters or happens in that context. Viewers will just associate gun deaths with Northeast or East of the River.
---
This Week's Reporting Plan (Bold = I'll Be Attending)